Here's What the UAW Strike Means for Car Buyers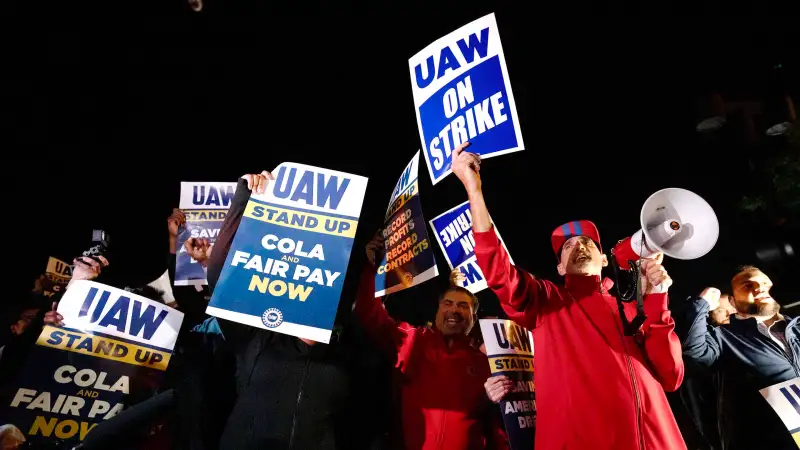 Thousands of U.S. auto workers went on strike Friday as they remain at an impasse with American car manufacturers over contract negotiations, wage demands chief among them. And though the strike has just begun, it does have the potential to disrupt the auto market.
That's because the United Auto Workers (UAW) union is pushing for a better contract with Ford, General Motors and Stellantis at a tumultuous time for the car market. While the inventory of new vehicles in the U.S. has been steadily rebounding in 2023 as pandemic supply chain challenges have faded into the past, there still aren't nearly as many cars on dealers' lots as there were in 2019.
The relatively low inventory of new vehicles in the U.S. — at least by historical standards — means that car prices could be sensitive if there's a prolonged strike.
How the UAW strike could affect car shoppers
Work stoppages will almost certainly result in the production of fewer cars, which could cause car prices to rise beyond their already high level, but the scope of that reduction in vehicle supply is impossible to predict at this early stage of the strike. It's likely it will take several weeks for car buyers to really be impacted.
The UAW has 146,000 members, so the potential magnitude of the strike is enormous. As of now, only 13,000 workers have walked off the job in a limited phase of the strike, but union leaders say those numbers will grow if they can't reach a deal. (Among their demands: A 40% wage increase over four years, additional pension benefits and cost-of-living pay raises.)
In 2019, a 40-day UAW strike specific to General Motors only had a relatively minor economic impact, but it did create serious headaches for car owners whose vehicles needed repairs during and after the strike. A car parts shortage that resulted from the strike delayed repair times.
This time around, the economic impact of the UAW strike could be more significant because two more automakers are involved and vehicle inventory is so tight, even with auto loan interest rates as high they are.
The big three Detroit-based automakers represent about 40% of the U.S. auto market, according to Cox Automotive.
The longer the strike, the bigger the impact
The good news for anyone planning to shop for a new car soon is that many of the vehicles these automakers produce are well-supplied relative to the industry average, Cox's chief economist Jonathan Smoke wrote in a Friday report. That means inventory won't run out for a while, decreasing the immediate impact on consumers.
"GM sales are likely more vulnerable in a strike, as GM's sales pace is stronger and supply more limited, so any disruption will be a negative," he said. "Stellantis sales, on the other hand, have been weak — so with abundant supply, their sales would likely not be impacted for a much longer period of time. Ford is in between."
If the strike ends up lasting a significant amount of time, there will likely be an imbalance of supply and demand in the new car market. Buyers could expect to lose some of their leverage in price negotiations at the dealership.
When there's a shortage of new cars, automakers and dealers typically respond by offering less generous incentives and discounts, or none at all, increasing what it costs to buy the car. Higher prices would likely also spill over into the used car market, which would benefit sellers.
Car owners don't have to worry about the strike as much as prospective buyers; however, experts say car repair times could be impacted again if the UAW strike leads to shortages of car parts. But, again, these scenarios will likely only come into play if the strike drags on and proves to be disruptive.
More from Money:
Gas Prices and Car Insurance Costs Nudge Inflation Rates Higher
Money's Best Autos of 2023, From Sports Cars to SUVs
Rates are subject to change. All information provided here is accurate as of the publish date.