4 Things Families Often Get Wrong About College Costs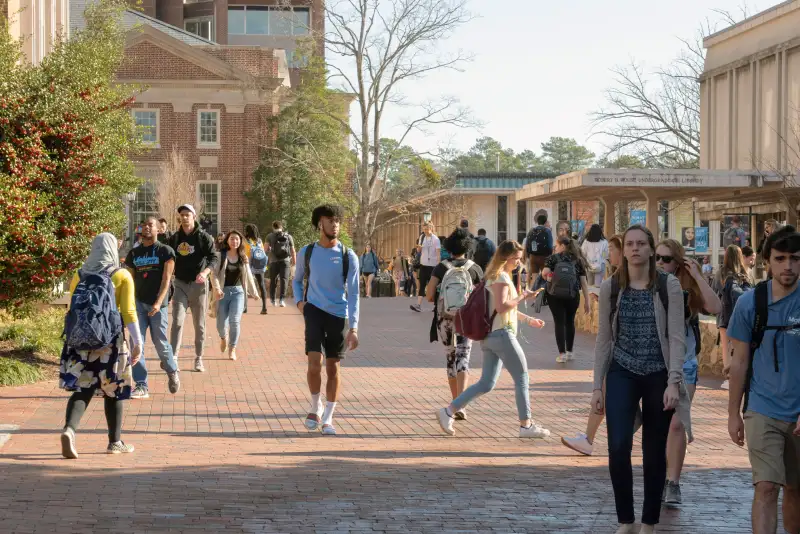 Make no mistake about it: A college education can be extremely expensive, and families have full reason to worry about how much they need to save, the potential burden of student debt, the rising costs of non-tuition expenses — all of it.
It's also true, however, that part of the challenge of paying for college is simply figuring out what the real price will be and what you're getting for that price.
At 83% of colleges, the majority of students go on to earn sufficiently more money than the typical high school graduate to recoup their investment in 10 years, according to a new report from the Institute for Higher Education Policy, a nonprofit research organization. It's the latest in a long line of research that shows, on average, college does pay off financially.
Of course, the flipside of that means there are some schools that are often not good investments, so it's important to thoroughly research your college decision. (Money's Best Colleges list can help you find schools that are worth the money.) Ultimately, how good of an investment you make depends in part on how much you pay — and to pick the right college at the right amount, you first have to understand how college pricing works.
Here are four myths about college costs and what experts say you need to know to make your higher education experience worth it:
Myth: A college's sticker price is what you'll have to pay
On the websites of the country's most expensive colleges, you'll see exorbitant estimates for the full cost of attendance: the University of Southern California, for example, now lists the total price as $90,921 — for a single year.
Figures like that can discourage folks into thinking a college education isn't worth it or is out of reach. But the reality is that only a fraction of students — less than a third in the case of USC — pay full price.
The majority of students, at USC and across the country, receive grants and scholarships that reduce what they have to pay. This is called the net price of attendance in higher education lingo.
Nationally, students actually paid an average price of $28,660 at private nonprofit four-year colleges, counting tuition, fees, room and board, and other costs for the most recent school year, according to College Board research. The figure is almost half that, $14,560, at public four-year colleges. (USC, for what its worth, still lands on the expensive side; the average net price is about $36,800.)
Jackie Copeland, associate provost and director of scholarships and student aid at the University of North Carolina at Chapel Hill, says the difference between sticker price and real price is "one of the biggest things that we attempt to get through to families when we have the opportunity to speak with them directly."
She recommends families use net price calculators before applying to receive financial aid estimates based on their income, tax and household information.
Lydia McNeiley, college and career coordinator for a school district in Hammond, Indiana, says greater awareness that advertised prices aren't what you'll typically have to pay could help college seem more feasible to many of her students, who would be the first in their families to go. Nearly 80% of the district's students are economically disadvantaged, so cost is a primary concern.
Many of her students, in fact, don't realize there are state programs like the 21st Century Scholars that could cover their tuition at a public school like Purdue University.
Myth: Aid is only available to low-income families
You might be surprised just how much a family can earn while still qualifying for need-based aid at some schools, particularly selective colleges that tend to have greater financial resources.
A handful of elite schools are basically free for families with incomes below $75,000 (or higher thresholds in some cases) and that includes tuition, room and board, and more. At several institutions, full-tuition scholarships are available to most families earning up to $150,000.
It doesn't stop there, either: At Stanford University, which has one of the most generous need-based aid programs, even families earning between $225,000 to $250,000 get a break: The average scholarship and grant amount for this income bracket is $33,800 per year, which reduces their average net cost to $50,060. For families with multiple kids in college, need-based aid is available at income levels above $300,000.
The challenge with these wealthy, elite institutions, of course, is getting in. If you don't, there are many private colleges that focus a significant portion of their financial aid on non-need-based aid, more commonly called merit aid.
At the University of Dayton, for example, 43% of students without any financial need receive merit grants, and the average amount is nearly $25,000.
When you're researching colleges, you can look for schools that meet financial need with no-loan commitments, as well as colleges that meet 100% of students' financial need, which generally means their financial aid packages exclude private loans, unsubsidized federal loans, or parent PLUS loans. Or, if you're looking for colleges where you can get in and qualify for a significant merit grant, try looking for schools that give out significant merit awards and where you're at the top of the academic profile of admitted students. (Many colleges will share a class profile on their websites or you can search for a college's "Common Data Set" to look up statistics of incoming students.)
Myth: In-state public schools are always the cheapest option
While in-state public schools are generally among the lowest cost options for students, you don't have to limit your search there if you're looking for a low price.
Robert Lovvorn, a college counselor at Riverdale High School in Portland, Oregon, says students who are focused on finding an affordable college are increasingly looking beyond their state schools. Tuition costs have risen so much at the University of Oregon and Oregon State University that other colleges are looking more affordable, he says.
It can sometimes cost about the same for a student to attend a public school in another state in the Northwest, like Montana State, thanks to tuition reciprocity agreements between nearby states. Add on any scholarships, and out-of-state schools can become cheaper than in-state options, Lovvorn says.
At UNC, Copeland agrees that costs aren't always higher for out-of-state students. Non-resident students whose families are within 200% of the federal poverty guidelines can be eligible for the university's Carolina Covenant program, which qualifies them for debt-free financial aid packages.
Private universities can also be cheaper for students who'll receive aid, especially in a states like Pennsylvania, New Hampshire and Vermont, where public universities are comparatively expensive. Looking at the University of Pittsburgh and Dickinson College in Carlisle, Pennsylvania, you'll find the estimated price for students who receive aid is slightly lower, at $22,400, at the small private college, compared to the estimated in-state price for students who receive aid at the large public, $24,700. Dickinson's full tuition is higher, but over 90% of students receive grants or scholarships.
Myth: Tuition is always the most expensive college cost
At public universities in areas with higher costs of living that also have relatively low tuition prices for in-state students, the cost of room and board can trump the price of tuition.
Schools like the University of Florida and California State University, Los Angeles are examples of universities that publish room and board costs that are actually quite a bit higher than their in-state tuition prices.
Room and board costs have been soaring lately with inflation. In April, Michigan State University officials announced a nearly 7% increase for the upcoming year as they reported that their food costs were up 25%, according to MLive.
It's a similar story pretty much nationwide, according Jim Hundrieser, vice president for consulting and business development at the National Association of College and University Business Officers.
Even though some schools have made only modest tuition increases this year, "almost all of them are having to look towards a room and board increase to pay for those increases in utilities, construction or renovations, upkeep, food, staffing," Hundrieser says.
More from Money:
These Are the Best Colleges in America